BELVÁROS APARTMANHÁZ SOPRON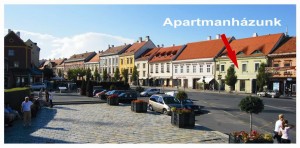 Sopron Apartments  in downtown!
- 4 well-equipped apartment in the city center
- Living room, kitchen, separate bedroom, bathroom
- The ideal starting point for excursions
- Programs sun, rain, snow
- Culture, entertainment, sports, wellness
- Grocery store right next to the apartment house
- 10% discount for VIP partners
- Smoke-free rooms
- Wi-Fi internet access free of charge
Our apartment is one of Hungary's oldest and most beautiful village, situated in Sopron. Apartments in the downtown area right next to the old town (150 meters), easily accessible by car to our customers.
Hotel in Sopron elegant street of Várkerület located in the direct line of sight over the fire tower is a symbol of the city's statue of Mary and the Loyalty Fountain. Enjoy Sopron pulse of modern apartments in one!
Sopron wine culture and leisure city. The city, its medieval monuments, churches, and in close proximity to the city's nicest shops, restaurants, the neighborhood of our guests, one of four apartments. Near thermal baths (Balf, Stone Mountain, Bük, Sárvár), wellness centers, spas and experiences (Lutzmansburg, Frauenkirchen) pamper visitors.
Enjoy that Austria is just one jump. The faithful city at the foot of the Alps, 60km away from Vienna, Eisenstadt from 15km away. A boat up to Lake Neusiedl, either by bike átruccanhat western neighbors.
For skiing enthusiasts as little as 45-50 minutes highway system is one of Austria's most modern ski resort Semmering Stuhleck or Hirschenkogel.
Our apartments are for couples, and three-, four-member families and friends for an ideal. The convenience of a fully equipped kitchen, TV, bathroom, free Wi-Fi internet access provided.
Relax in a beautiful city, tour the area, enjoy wine tasting, wellness programs, Venture over to Austria, slipping on snowy slopes of the Alps.
We wish to spend the time pleasantly in BELVÁROS APARTMANHÁZ SOPRON!